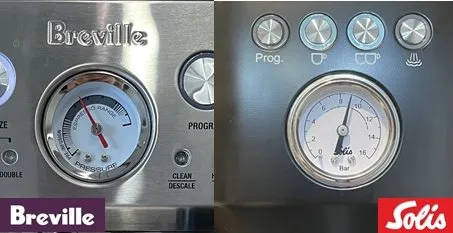 9 Bar Extraction Modification
Breville Barista Express, Infuser, Solis Barista Perfetta Plus & Gaggia Classic Pro
$
120
For BrewRatio's Customer
$150 For Espresso Machine Bought Elsewhere

Exclusive In Singapore Only
Limit your extraction to 9 bar for optimum espresso extraction
The Barista Express, Infuser & Solis Perfetta come with a default of 15 bar pressure limit. The Gaggia Classic Pro on the other hand comes default with 13 bar pressure limit. In most cases, we need to grind much finer to resist the pressure pumping out of the machine, to slow down the extraction to the optimum 25 to 30 seconds for a double yield. As a result, this may create an overly strong and thick espresso which is undesirable.
In many proven studies, espresso are at its most balanced stage when extracted at 9 bar pressure. In fact, 9 bar is exactly the pressure you'll find in most commercial grade espresso machines, such as the ones commonly found in cafes. 
BrewRatio is providing this mod service to limit the extraction at 9 bar for optimum espresso extraction. The duration of the modification will take 2-3 business days as we need to calibrate the pressure limit for every machine modified by us. For Breville Barista Express & Infuser, we would need to perform another modification to re-route the water discharge system.
*Modification will void your warranty if you bought your machine somewhere else. For machines bought at BrewRatio, modification will not affect BrewRatio's warranty.