Get the ultimate espresso experience with the 9 bar mod
At BrewRatio, we believe in delivering the best possible espresso experience. By default, the Barista Express, Infuser & Solis Perfetta come equipped with a 15 bar pressure limit, while the Gaggia Classic Pro has a 13 bar pressure limit. These high pressure limits can often result in a strong and thick espresso, which is not desirable.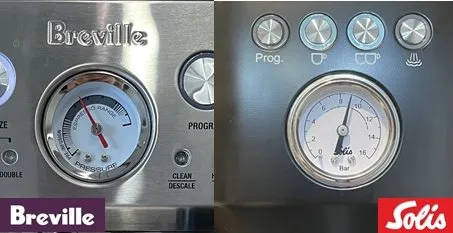 However, studies have shown that espresso is at its most balanced when extracted at 9 bar pressure, which is the pressure commonly found in commercial-grade espresso machines used in cafes. To help you achieve this balance, BrewRatio offers a 9 bar Extraction Mod service, which will limit the pressure of your machine to 9 bar for the best extraction results.
Please note that the modification process will take 1-2 business days as we need to calibrate the pressure limit for each machine. For the Breville Barista Express & Infuser, we will also need to perform another modification to re-route the water discharge system. Let us bring the café experience to your home with the 9 bar mod.
*Modification will void your warranty if you bought your machine somewhere else. For machines bought at BrewRatio, modification will not affect BrewRatio's warranty.
9 Bar Extraction Mod
Breville Barista Express, Infuser, Solis Barista Perfetta Plus & Gaggia Classic Pro
$
120
For BrewRatio's Customer
$150 For Espresso Machine Bought Elsewhere

Exclusive In Singapore Only